We provide a wide range of products that allow for impeccable vibration control, even in the most demanding industrial settings and equipment systems. We provide individual vibration control products that include cylindrical vibration isolators, vibration isolator mounts, vibration spring isolators, and a wide range of dampers and control pads.
We have also provided many of our clients with complete vibration control systems that consist of the most advanced vibration isolation technology—all custom engineered and implemented according to individual specs.
Who We Service:
Our customers come from all types of industries with their own unique requirements. We work with building and contracting, manufacturing, utility, automotive, marine, and many other types of companies, to develop and provide vibration control products and systems that are effective, specialized, and highly dependable. We are pleased to work one on one with your engineers to design complete vibration control systems, as well as individual components like cylindrical vibration isolators.
To Visit Our Website
To Request a Quote or Purchase
For More Information On Vibration Control
Sales Office: 1-888-703-0403
Hours of Operation: Monday thru Friday, 8am to 5pm, EST
Why Purchase From Us:
Purchase from us to get a comprehensive array of vibration noise control products. Find them at competitive prices, engineered to provide excellent, long lasting vibration control performance. In addition to offering ready-to-ship products like cylindrical vibration isolators, pads, and mounts, we also provide our customers with expert engineering and design services, so that all the vibration control equipment you get from us is perfectly suited to your application.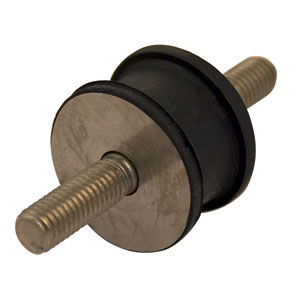 How To Purchase:
To purchase cylindrical vibration isolators, pads, mounts, and other vibration control products, or to get started designing vibration control systems for your company, contact us through our website. Complete an RFQ with your application specs or call us to talk with one of our vibration control experts.
How Do Vibration Control Systems Work?
The implementation of vibration control systems are typically completed for the sake of creating a vibration-free environment or structure, and are primary part of active vibration control. These systems consist of various vibration control solutions that are combined to protect and stabilize equipment, and as well as measure and actively control accelerating force.
They may include any combination of vibration control platforms or tables, or active vibration control technologies, as well as passive vibration components, such as spring shock absorbers, cylindrical vibration isolators and mounts, and other damping equipment and materials.
Vibration control systems work by absorbing or deflecting vibrations that result from certain types of machinery and equipment while in operation. Vibration control systems can be used with continuous-use machinery like power generators or cooling equipment, or machinery that's used periodically but still requires vibration control, such as air compressors, power saws, and industrial presses.
When Would Cylindrical Vibration Isolators Be Used?
Cylindrical vibration isolations are used as part of passive vibration control systems, meaning they effectively dampen vibration rather than actively assess and control it. Their cylindrical shape is made from a number of different materials that are strong as supportive, and still deliver reliable cushioning and damping effects. They're also incredibly easy and economical to customize.
Cylindrical vibration isolators, also called cylindrical mounts, are used to support and stabilize machinery and platforms, while isolating vibration and tremor. They can be used as part of vibration control systems with equipment that produces potentially destructive and damaging vibration during operation.