We offer custom designed and precision manufactured vibration isolation solutions for all types of industrial applications. Our vibration isolation products include platforms and pads that dampen vibration and cushion surfaces. We also offer vibration isolation mounts and rails, which will reliably absorb vibration and shock, protecting equipment from critical damage.
In addition to providing a wide range of ready-to-implement vibration isolation pads, mounts, rails and more, we are pleased to offer our customers expert engineering and design services, which ensure the most suitable vibration isolation setup and continuously effective protection.
Who We Service:
We provide vibration isolation solutions to all types of industries. Manufactures and processers regularly rely on us for vibration isolation pads and platforms that protect and stabilize machinery and ensure a safe working environment.
Automotive, marine, power generation and utilities providers come to us for vibration isolation mounts and rails that ensure safe operation and maintenance of equipment, and deflection of force in the event of sudden tremor. For companies in with unique needs, we can custom tailor vibration isolation options according to application specifics.
To Visit Our Website
To Request a Quote or Purchase
For More Information on Vibration Isolation
Sales Office: 1-888-703-0403
Hours of Operation: Monday thru Friday, 8am to 5pm, EST
Why Purchase From Us:
Purchase from us and you get access to tried and tested vibration isolation products that are made to perform in critical applications. We offer them at the competitive prices and are happy to work closely with all of our customers. As a result, they get vibration isolation platforms, pads, mounts, and rails that work together to provide security, stability, and preservation.
When you purchase from us, you're working with experts who can help you identify the best products and most effective arrangement for your vibration isolation needs.
How To Purchase:
To get  vibration isolation platforms, pads, mounts, and rails, as well as many other vibration isolation and control products, contact us through our website. You can submit an RFQ form explaining your specs or contact us directly to get in touch with our expert vibration noise control associates.
Getting The Most Out Of Your Equipment With A Vibration Isolation Platform
Consider a properly fitted vibration isolation platform as just one type of insurance on your equipment, your processes, and your company. That is because vibration, if not properly isolated or controlled can have seriously damaging effects. Using a vibration isolation platform to support and stabilize machinery helps protect it, surrounding equipment, and operating personnel, from the hazards of vibration, tremor, and shock.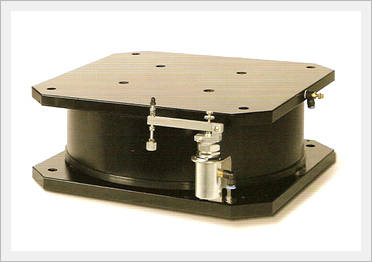 A vibration isolation platform typically consists of vibration isolation pads or damping materials, which not only absorb vibration but also help to stabilize and prevent slipping while the equipment is in operation. In addition to vibration isolation pads, vibration isolation platforms should be equipped with the proper mounts in order to absorb shock and maintain stability.
A vibration isolation platform can be used on the floor, directly below large equipment, or function as a vibration isolation table. Individual components such as vibration isolation mounts and different types of pads can be used as part of a custom vibration isolation setup. Vibration isolation platforms are fairly easy to customize and offer a great deal of assurance.
What To Look For In Vibration Isolation Pads
When selecting vibration isolation pads, there are a few factors to consider. They are available in a wide variety of thickness and materials which factor into the level of absorption and cushioning.
Vibration isolation pads also feature varied surface designs and textures, which play into grip, resistance, and prevention of dust and debris accumulation. Some vibration isolation plates will feature layers of various materials and even metal sheets that are incorporated for load distribution and added support.
How To Implement Vibration Isolation Mounts
Vibration mounts are easy to implement into a wide variety of applications. They're also a great and economical way to modify a current setup for greater vibration isolation.
Vibration mounts can be mounted below a piece of equipment or heavy machinery, usually directly to or underneath the support legs, and prevent wear, stress and breakage which can result from high speed vibration. They are available in a wide range of sizes and configurations. Some vibration isolation mounts function thanks to shock absorbing springs or specialized materials that absorb and cushion force.
Using Vibration Isolation Rails To Protect Vital Systems
Vibration isolation rails are useful in those heavy-duty, high demand applications that need critical protection against vibration and tremor. These include cooling tower applications, rooftop air-conditioning units, industrial compressors and other machinery.
Vibration isolation rails feature a series of sock deflecting springs, which are housed in strong metal rails. The rails can then be used to mount the heavy machinery and isolation active vibration, thereby preserving the performance and longevity of equipment and protecting surrounding surfaces and structures.